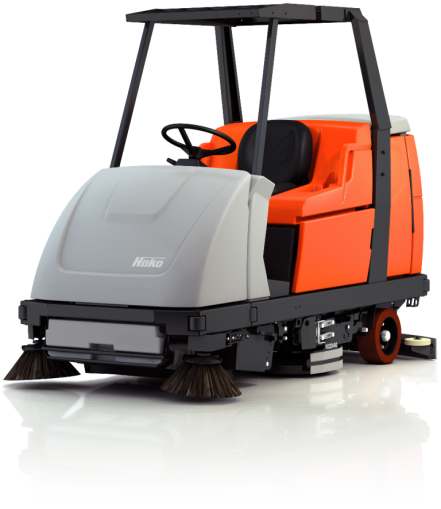 Scrubmaster B310 R CL
---
Area coverage up to 8,600 m² cleaned/hour.

Dust-free sweeping/vacuuming, wet scrubbing and dry vacuuming in just one working operation.
The Scrubmaster B310 R CL, a combined sweeping and scrubber-drier machine, saves valuable time by completing three working operations in just one process.
In the first step, the 138 cm wide pre-sweep/vacuum unit, with two separately driven side brushes, one main cylindrical brush and powerful suction fan, sweep up larger debris and fine dirt. The dirt hopper is easy to empty after completing the work in one simple operation.
During the second step, the rotating plate brushes sweep up even the most stubborn dirt. The optional Hako-Chemical on Demand system can be used to apply cleaning agent according to the situation at hand and can be deactivated again to resume cleaning lightly soiled areas without any chemicals. All these features help to increase operating times while an automatic water filling system provides time-saving refilling.
In the third and final step, the parabolic squeegee dries the floor, leaving it immediately suitable to be walked and driven on. The powerful 2,000 W drive motor and 640 Ah battery provide plenty of reserve capacity for the Scrubmaster B310 R CL to operate over a long period and cope with gradients up to 20 % with ease – an invaluable advantage when cleaning ramps, e.g. in multistorey car parks. Fitted with the optional collision protection, the machine and side brush are not only protected from damage but also from resulting downtimes.
---