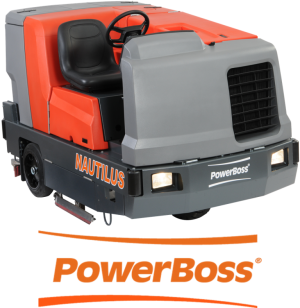 PowerBoss Nautilus
---
Area coverage up to 15,200 m² cleaned/hour.

The PowerBoss Nautilus scrubber sweeper can be an exceptional value to your company. Large water capacities provides longer cleaning time, heavy duty stainless steel parts offer lower cost of ownership and the unmatched maneuverability helps to ensure professional cleaning results that will make the difference for you.

Quick Scrub - Controls: Utilizing only one switch, the operator can have all functions turn on and off with a flip of one switch. The functions (scrub and/or vacuum) are selected prior to cleaning.

Professional Cleaning Results: Two powerful Eaton hydraulic motors turn two 45" (114 cm) cylindrical brushes at 425 RPM. Choose 200, 300 or 400 lbs of down pressure using the selector knob on the operator control panel. Rip the build-up off the floor or bring the polish back to the high gloss finish. 11,500 CFM vacuum completely dries the floor allowing forklift or foot traffic to travel safely behind the machine.
---