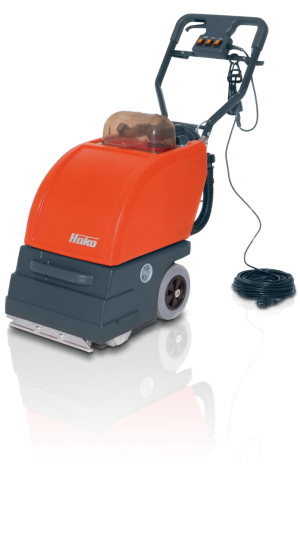 Cleanserv C34
---
For powerful cleaning.

A compact carpet cleaning machine for quick, thorough cleaning of small and
medium-sized areas. The cylindrical brush system enables the machine to be
used on practically all textile flooring. The two powerful suction squeegees
ensure only a minimal amount of residual moisture remains on the floor. After
just a short drying time, the area cleaned is ready to walked be on again. The
folding handlebar can be adjusted for transport. All the operating elements
are within direct visible range and immediately accessible. The dosing of the
water supply can be adjusted manually. The Cleanserv C34 is equipped with a
diaphragm tank made of sturdy plastic; the tank volume can be exploited to
the full, enabling maximum area coverage with each tank filling. A comprehen-
sive range of manual accessories simplifies cleaning upholstery, confined
spaces or stairs.
---