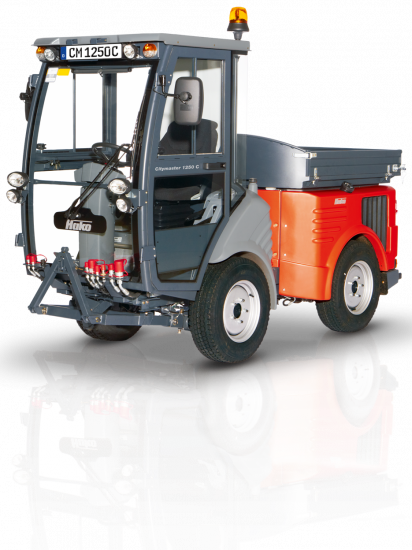 Citymaster 1250plus
---
Our classic sweeper with "plus" advantage.

A winner in every respect: Increased comfort for the driver due to the operating panel ergonomically integrated in the armrest, improved driving comfort and less noise, both in- and outside the cabin. The new sweeping unit offers additional adjustment options for even more superior cleaning results, as well as variable working widths and an extended range of sweeping brooms.

Multi-functionality
The Citymaster 1250plus now always offers the full range of multi-functionality – without compromise. Configure your machine to meet your individual requirements and only pay for what you really need.

Cleanliness is the Citymaster's profession
The Citymaster 1250plus enables both fast and low-noise working and is very comfortable to operate. Extended sweeping functions in combination with the powerful scrub deck provide the perfect solution for every application. Ease-of-use combined with improved comfort for the driver enables fatigue-free, fully concentrated working even over long operating periods. The robust and maintenance-friendly design ensures low operating and service costs in the long term.

Excellent sweeping results
The Citymaster 1250plus simply offers more in the 1-m³ class. Whether equipped with small brooms for passage ways with a small clearance width, or with large brooms providing maximum performance – the brooms in combination with the sweeper's powerful suction fan can easily cope with large amounts of dirt. For more flexibility in sweeping, the two features individual-broom-control and brush-head-adjustment are now optionally available for the right-hand broom. The dirt hopper is easy to clean and can be filled to capacity for long operating times, which saves both time and money.
---