Linde Motion Detection
Reversing safely
More than 50% of accidents involving industrial trucks and pedestrians occur when forklift trucks are reversing (source: BGHW Deutschland, 2014). This is often because people that walk around the warehouse are under the impression that forklift drivers can see them – something that can lead to tragedy in the worst cases. Accidents in the warehouse result in downtimes and productivity losses, alongside the personal harm caused. To avoid all this, the issue of safety becomes paramount.
Linde has always provided its customers with a myriad of design measures and assistance systems for all-round safe goods handling. Linde Motion Detection is another building block in Linde's holistic safety portfolio. The system can be retrofitted onto counterbalanced trucks and detects movement behind the stationary forklift truck, thus preventing accidents with people and other forklift trucks in hazardous areas.

Risk factor: Multi-tasking
One of the critical situations involving forklift trucks and pedestrians is the loading and unloading and picking up and putting down of loads. The driver is concentrating fully on the load and doesn't notice pedestrians or other forklift trucks behind them. In this situation, 25% of accidents involving people occur at a distance of 0–3 m from the rear of the forklift truck (source: BGHW Deutschland, 2014). This situation becomes more dangerous the more the driver is under time pressure or loses concentration due to the repetition of monotonous activities.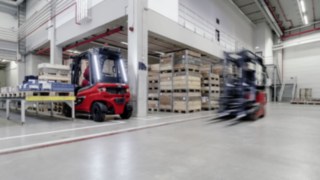 AVOID COLLISIONS ALL AROUND

Linde Motion Detection prevents collisions with pedestrians or forklift trucks because the assistance system detects movements behind the stationary forklift truck. The assistance system prevents the forklift from moving if it detects movement while the truck is stationary. The driver is alerted to the danger by a warning on the display. An acoustic signal also warns the pedestrian. To be able to continue driving after the warning has been issued, the driver has to put the gas pedal back in its starting position. The system works reliably, no matter the light level and can be individually adjusted to the usage situation and environment. As a result, Linde Motion Detection helps drivers navigate even in poorly lit parts of the warehouse or in areas that do not allow good visibility.
Sustainable safety for retrofitting
Linde Motion Detection is designed for counterbalanced trucks and can also be retrofitted onto existing fleets. An annoying warning tone, which increases the often already-high level of noise in the warehouse, is not necessary. In addition, drivers and pedestrians are made more aware of dangerous situations in the warehouse, meaning they pay greater attention to how they get around the warehouse. The fact that pedestrians are also warned about typical high-risk areas and situations contributes to long-term safety education in the warehouse for all involved. As such, this increases safety in the warehouse, reduces downtimes as a result of accidents and keeps the flow of goods moving.
THE BENEFITS OF LINDE MOTION DETECTION AT A GLANCE

SAFETY

MODERNIZATION

SUSTAINABILITY

PRODUCTIVITY